I met Josh and Kim a few years ago when we were all interning in Los Angeles. At the time, they were excited about taking a course to summit Mount Rainier and they inspired me to get into mountaineering as well. Last year, I took the American Alpine Institute's Alpinism I course but didn't reach the summit of Mount Baker, our objective for the week. I was disappointed but that failure only increased my motivation to do more climbing! Later that summer Josh and Kim completed their course and summited Rainier. Fast forward to the beginning of this year: Josh secured an internship in Seattle, decided to climb Mount Baker, and invited Kim and me to join him. Our plans evolved as the coronavirus pandemic shut down Washington state, but we managed to meet up in mid-July for a summit bid!
Trip Planning
Specs: 14.2 mi | +/- 7600 ft | 2.5+ days, 2 nights
Difficulty: Class 1, glacier walk [learn more]
Location: Mount Baker National Recreation Area | Home of the Nooksack, Coast Salish, and Nlaka'pamux peoples | View on Map
Route: Begin at the Park Butte Trailhead and follow the trail toward Park Butte. About 3.5 miles up the trail, take the path toward the Railroad Grade and follow it as high as Sandy Camp. Beyond this point it is up to you to navigate the ever-changing glacial terrain to the summit, though the general Easton Glacier route can be found on SummitPost. To return, simply reverse the route.
Permits and Regulations: Neither climbing permits nor backcountry permits are required for overnight trips in Mount Baker National Recreation Area, but a recreation pass is required to park at the trailhead and you should definitely register at a nearby ranger station in case of an emergency. For more information, please visit the forest service website. As always, observe the leave no trace ethics! Wag bags (a.k.a. biffy bags or blue bags) are available at the trailhead, at least when the road is snow-free. Please use them once you've climbed above the forest! None of us want to encounter piles of poop up there…
Resources: The USFS website is a great resource for planning trips in this area, and the SummitPost article on the Easton Glacier route includes lots of useful information. Additionally, the AAI website includes sample itineraries and gear lists for their courses, a valuable resource whether you are considering signing up for such a course yourself or just want to get a feel for the gear and skills required. I brought along the Mount Baker Wilderness map printed by Green Trails (number 13SX), which has a great 1:24000 scale for a detailed view of the mountain and its many glaciers. I also downloaded a GPX file of the route from SummitPost and referred to it regularly in the GaiaGPS app while climbing the glacier.
Hike to Basecamp
17 July, 2020 | 3.7 mi | +2300 / -100 ft | View on Map
Josh, Kim, and I drove from Seattle to the Park Butte Trailhead this morning, jamming to Josh's "guilty pleasures" playlist and ogling Mount Baker from the highway. We made a few stops along the way – a few purchases at REI, some rentals at the American Alpine Institute in Bellingham, and a delicious lunch at the nearby Bakery Cafe.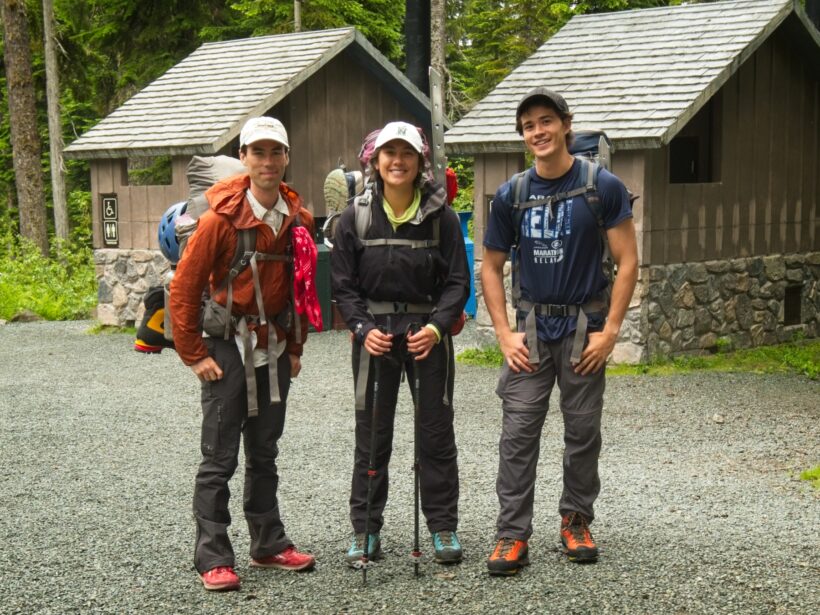 We arrive at the trailhead at about 3:15 in a light drizzle. The mountains are completely obscured by low-hanging clouds, but it's nice and cool for the hike to our basecamp for the next few days. The mosquitoes are surprisingly bad as we tread through Schriebers Meadow, but otherwise the trek is pleasant.
After crossing a roaring creek full of murky snowmelt, we ascend switchbacks for a mile or two, leaving the mosquitoes and much of the forest behind. I enjoy comparing this hike with my experience from last spring; the entire landscape was covering in snow then! One thing that hasn't changed much from that trip is the heaviness of our packs… a climbing rope really weighs you down in any season.
A few miles up the trail, we abandon the route to Park Butte and begin hiking up the "Railroad Grade," a trail that threads across the top of a long, lateral morraine. The steep sides and relatively gentle slope give the appearance of an old railroad path. Clouds and mist continue to obscure the mountains, which is a shame, because the view of Mount Baker is normally fantastic from here. The atmospheric conditions to lend a sense of adventure to the hike, though: what will the mountain look like? Only time will tell!
Even without the grandeur of towering peaks, the hike up the railroad grade is beautiful. I love the blue, green, and brown color palette that dominates the glacial wash; it's desolate but also verdant. There's even a large waterfall! We pass at least one or two dozen marmots as we stride up the moraine. They don't seem very scared of humans; they're probably used to being fed. Some of them whistle loudly as we approach, alerting their friends and families to our presence.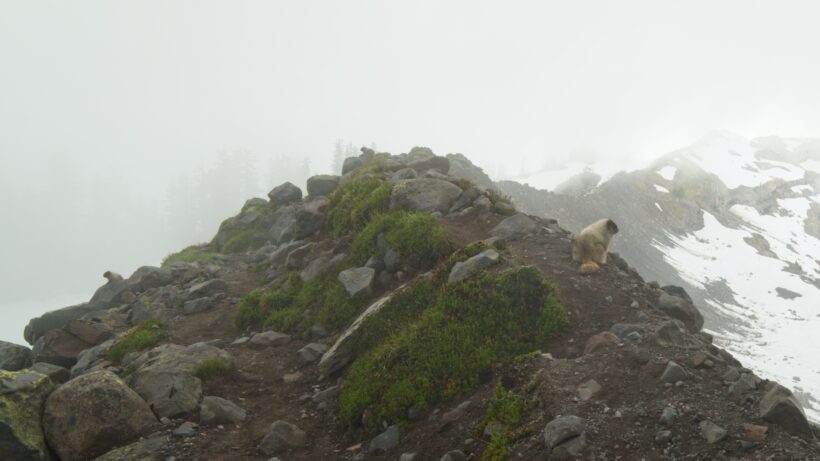 We find a nice campsite in a stand of pine trees just below the railroad grade. It's a tad wet and a little crowded, but we're able to squeeze our tents in. The sun begins to peek through the clouds as we unpack our gear, providing some welcome warmth. Once we've established camp, we spend some time reviewing knots, hitches, and the Texas-kick rope ascension system. Even though we've all completed some sort of mountaineering trip once before, it's been a year and we're rusty, so it's good to review. We'll spend all day tomorrow practicing mountaineering skills as well to ensure that we're as prepared as we can be for our summit bid.
After practicing knots and such for a while, we relax and enjoy a hot meal in the chilly evening air. The clouds continue to disperse as the evening goes on, so we go for a scouting trip up the railroad grade to see what we can see. To our great delight, we finally get an up-close view of Mount Baker and the Easton Glacier! A more careful inspection scares me a bit, however. There are some large crevasses up there! I'm awfully nervous about the prospect of navigating the glacier, particularly since we'll begin our hike hours before sunrise.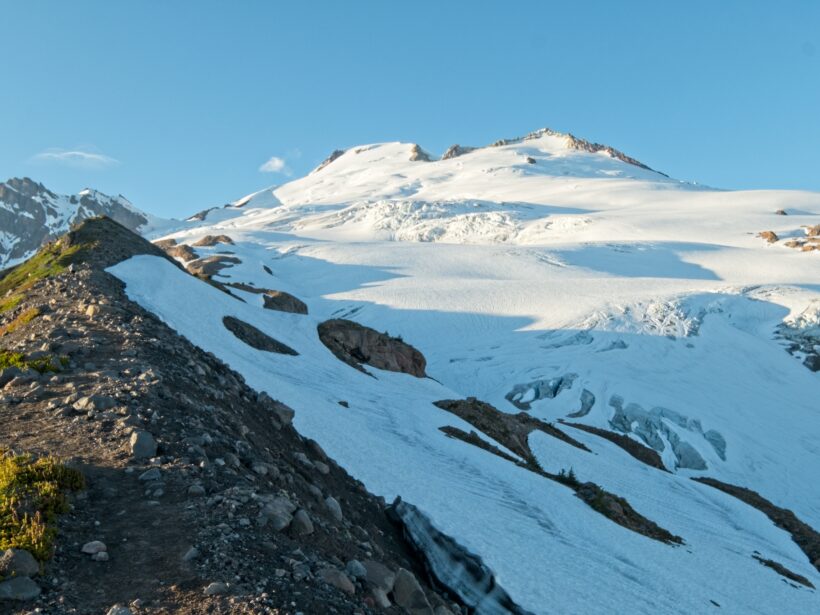 Worrying about our route is a problem for tomorrow, however, and we spend the rest of the evening relaxing and taking in the awesome views. The low-hanging clouds capture the colorful evening light and make for a beautiful sunset!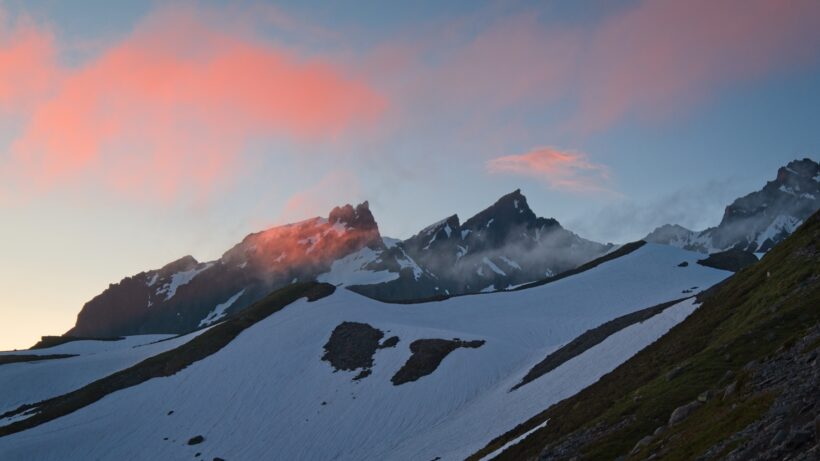 Snow Skills Practice Day
18 July, 2020 | 0.5 mi | +500 ft | View on Map
Today is completely dedicated to practicing glacier travel skills. Crossing a glacier is risky business, and there's no substitute for good practice. We begin with self-arrest drills, sliding down the snow and then arresting with an ice axe. It's really kind of fun to do, and the techniques come back to us fairly quickly. Next we review the process of setting up the rope for glacier travel (distance between climbers, knots, prusiks all set up correctly) and then practice moving as a rope team. We go uphill, downhill, across the hill, through switchbacks, everything we can think of. By the time we've finished, we're all roasting from the hot sun reflecting from the snow and decide it's time for a shade break.
Once we've cooled off in the shade, we pack up camp, hike about half a mile up to the end of the railroad grade ,and find a nice, dry spot to pitch our tents in the area called "Sandy Camp." Three of Josh's friends will be joining us on the climb tomorrow and we've agreed to meet them at Sandy Camp, so it makes sense to spend the night there.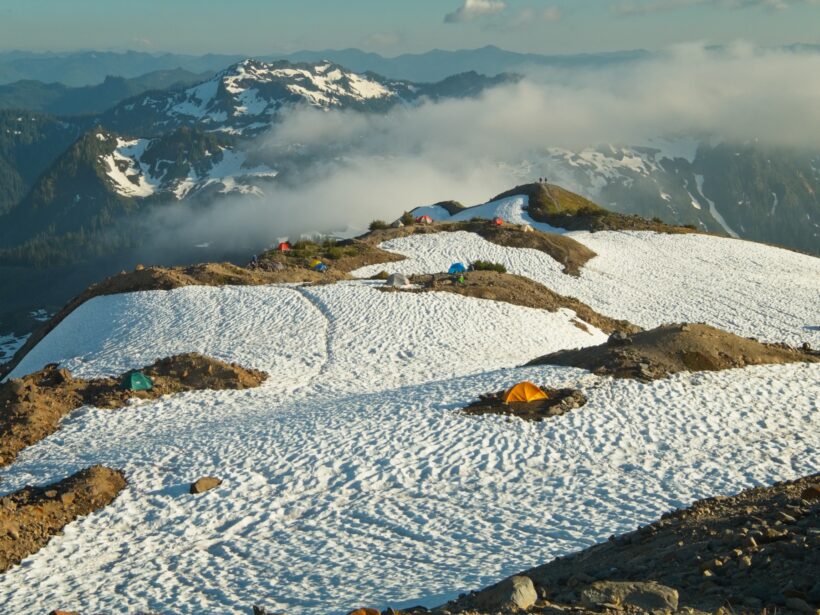 After re-establishing our camp, we spend a few more hours practicing anchor building and crevasse rescue. Once we're comfortable with the rescue process, we call it quits for the day. Ethan, Jae, and Michael arrive right when we expect them to at 4:00. They set up camp nearby and we chat about our plans for the next day. We have about 3 miles of hiking and 4700 feet of elevation gain between us and the summit. That should take us about 4-5 hours to complete, and probably about the same amount of time to descend. After that we'll still have to break camp (1 hr), and hike back to the trailhead (3 hr). If we want to be down the mountain by 4 PM, then we ought to begin our climb at 2 AM.
With an early, "alpine" start in mind, we take it easy this evening and try to get some sleep. I enjoy some spectacular views right from my sleeping bag, looking out of the tent on the mountains below. Sunset isn't until nearly 9 PM, so I pull a buff over my eyes to block out the light and eventually fall asleep.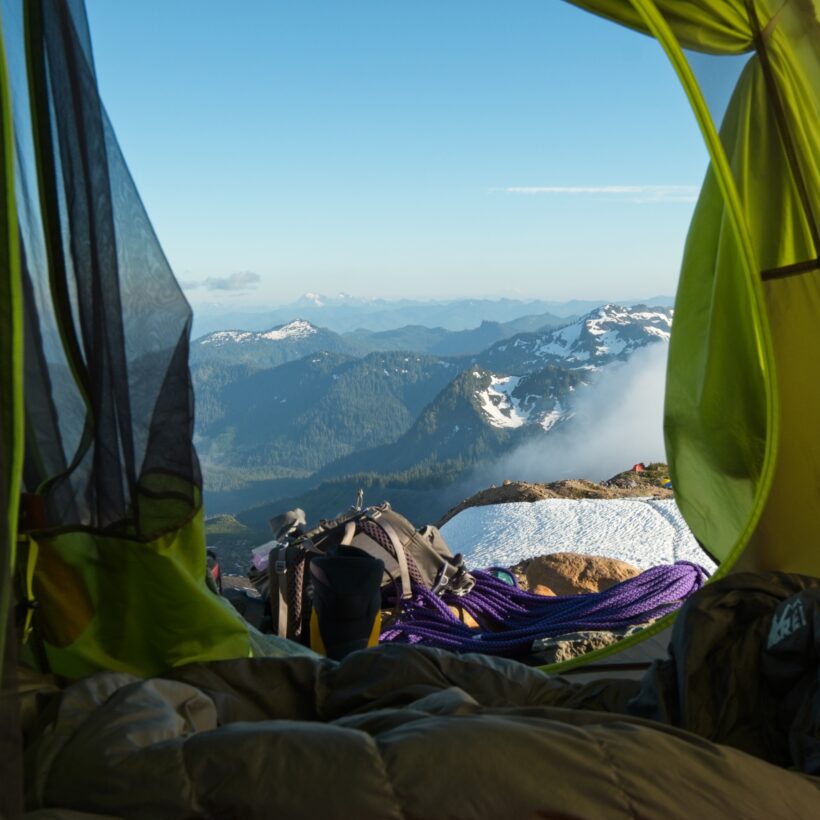 Summit Day
19 July, 2020 | 10.0 mi | +4800 / -7500 ft | View on Map
My alarm goes off early the next morning at 12:45 AM. I groan, but begin the process of extracting myself from my sleeping bag and from the tent — it gets a bit tight with two people in a 2-person tent! I cook a pot of oatmeal and enjoy a quick, hot breakfast, and then grab all of the gear I'll need for the climb. Josh, Kim, Ethan, Jae, Michael and I meet up at 1:45 or so and begin our hike shortly thereafter!
The first bit of hiking is just that — hiking. We wind our way up a snow-filled valley, keeping the Easton Glacier on our right. After an incredibly steep climb through "The Portal," we reach the edge of the glacier and pause to rope up. Once everyone has tied in, put on crampons, and gotten themselves organized, we begin the glacier portion of the climb. Much like the approach, it isn't technically difficult; we just walk, single file, up the glacier. I'm thankful to be following an incredibly well defined boot track rather than trying to read the topography of the glacier and identify crevasses in the dark. Josh and Kim are roped in behind me, with Ethan, Jae, and Michael roped together in their own 3-person team just behind Kim. Even if something does go wrong, we have plenty of skilled people to take care of it.
As we wind our way up the glacier, we step over a few small crevasses, each about a foot wide at the most. The established route winds around some of the larger ones, offering us glimpses into the dark interior of the glacier. By about 4 AM, it's light enough to see without the headlamp and we begin to really get a good look at our surroundings. To the south, snow-capped peaks line the horizon as far as the eye can see! The light also reveals just how much climbing we have left to do! We're still several thousand feet below the summit.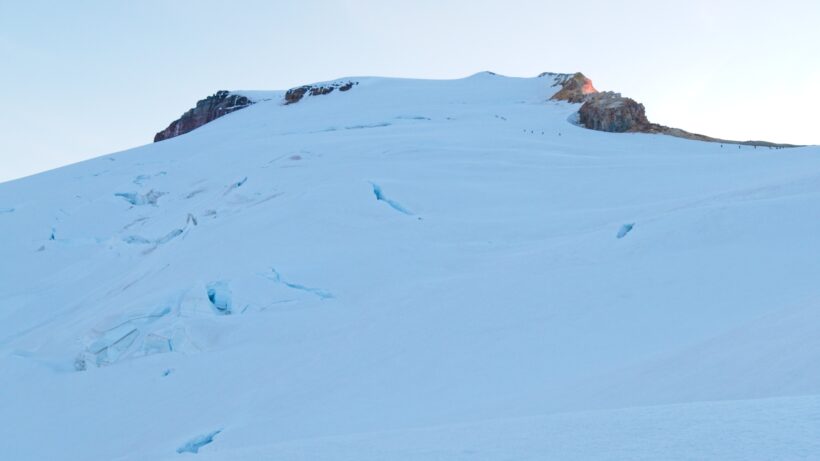 As we climb higher, Kim's knee begins to bother her. She and I swap places so that she can set a pace that works well for her and we continue the climb. We reach Sherman Crater at 6 AM, about half an hour after sunrise. It's a good spot for a break before we make the final push to the summit. The crater is also a pretty unique location – volcanic gas drifts out, filling the air with the faint scent of rotten eggs. Mount Baker is the second most thermally-active volcano in the Cascades after Mount Saint Helens!
After resting for a few minutes near the crater, we begin ascending the steepest part of the Easton Glacier, the "Roman Wall." We make steady progress, stopping every once in a while to rest or just to admire the views. One group passes us on their way down. When we ask them how the summit was, the reply that they didn't hike all the way to the crater; they turned back at a particularly gnarly crevasse that they didn't feel comfortable with. This news concerns us a little, but so many groups climbed the mountain yesterday and are climbing it this morning that we're confident we can make it up as well.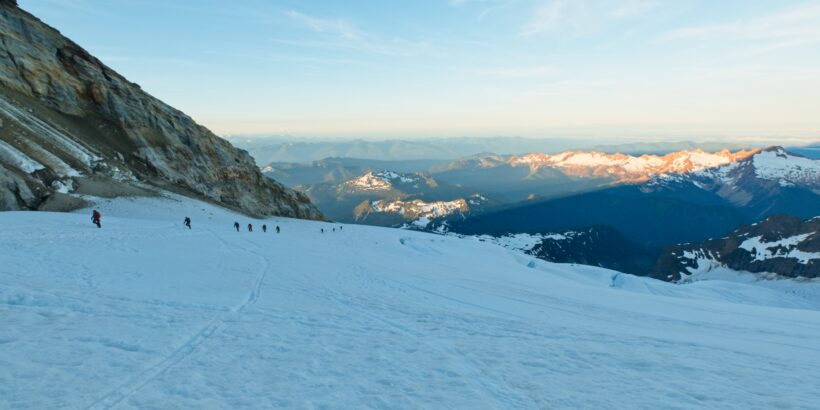 Despite the steep grade, the Roman Wall provides relatively easy climbing. The crusty snow is easy to punch steps into, so it's just a matter of putting one foot above the other. Every once in a while we sink deeper than is comfortable, "post-holing" in a patch of soft snow, but generally make quick progress up the wall. We don't see the scary crevasse the retreating group mentioned, though we wind around a few rather large ones at a safe distance.
The Roman Wall soon gives way to gentler terrain and then to the enormous, flat summit area. You could probably fit several full sized football fields up here! A short walk over to Grant Peak puts us on the highest point were we join scores of other climbers taking pictures and enjoying the panoramic mountain views.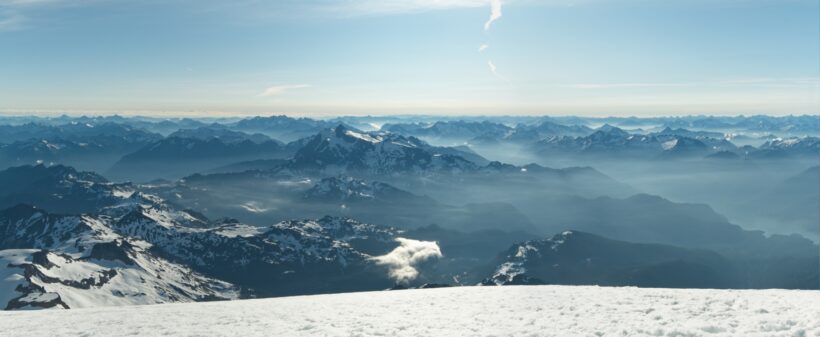 A quick glance at my watch reveals that we're more or less on schedule. It's 7:30, so it took us about 5.5 hours to make the climb. We sit up on the summit for 30 minutes or so before tying back into the rope and beginning the descent. Hiking down the Roman Wall turns out to be the most nerve-wracking part of the return journey, mostly just because it is so steep. We punch steps down the slope, making much faster progress than we did on the way up. Several ascending teams pass us along the way and we cheerfully wish them good luck!
Below the Roman Wall, the slope lessens a bit and we cruise on down the glacier. We pass even more ascending teams lower down the mountain, which surprises me a little; it's kind of late in the day to be starting the climb. Even if the snow and ice remain solid and safe, it's getting downright hot out here! The ascent is much more comfortable in the cool morning hours.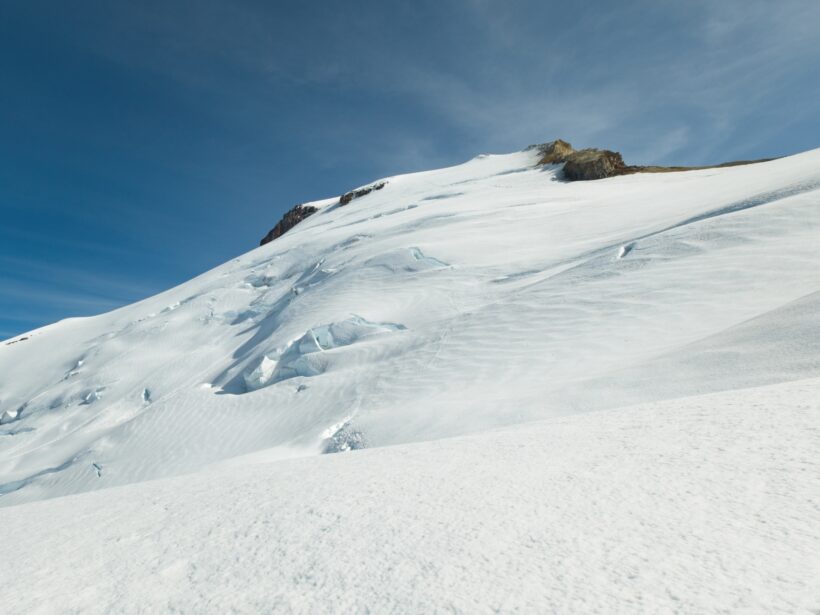 We pause a few times during the descent to peer into nearby glaciers and snap photos of the cool ice formations that we couldn't see during the dark, pre-dawn hike. We're doing well on time, and it's nice to break up the long (very hot) walk with breaks every now and then.
Rather than descend through The Portal, we continue down the glacier a little further. In retrospect, this may not have been the smartest idea. We have to navigate around several small, but very deep crevasses before we reach the lateral moraine and can safely untie from the rope. We have some fun glissading down the snow to camp, a welcome sight. We've made good time, too. It's only 11:20, so the descent took about 3.5 hours, putting us about half an hour ahead of schedule!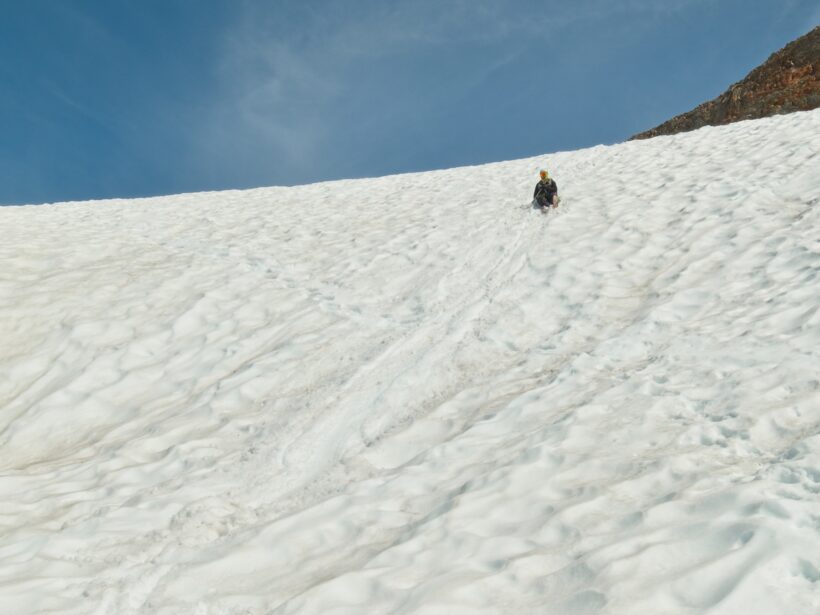 Ethan, Jae, and Michael are anxious to get home and quickly pack their things. We're not in quite as much of a hurry, so we say goodbye to them and take our time packing up our own belongings. Stuffing used biffy bags into my pack is definitely the worst part of the entire operation.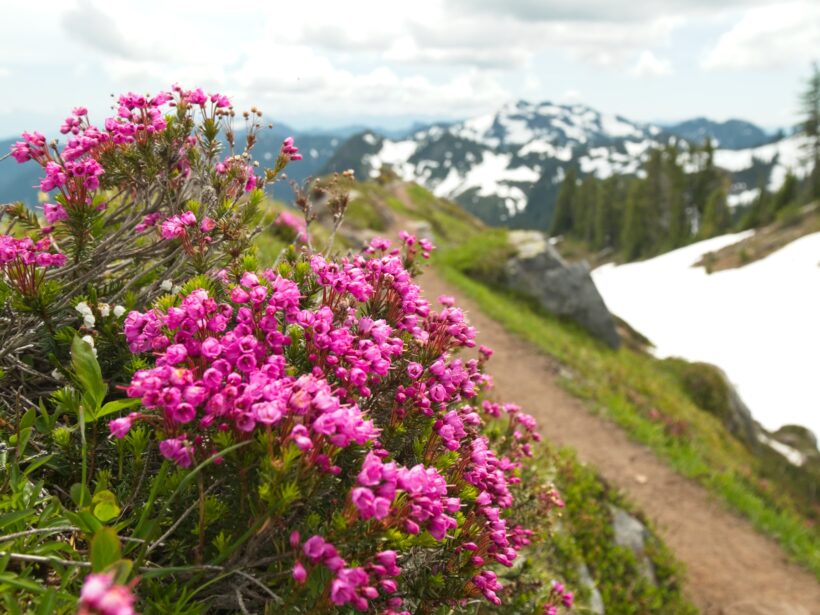 The hike back the the trailhead is mostly unpleasant. Walking uphill with a heavy back is tough, but walking downhill with a heavy pack just destroys my feet and knees. Still, I try to enjoy the sights along the way. Several beautiful bouquets of bright pink heather catch my eye, and the views of Mount Baker behind us are awe-inspiring. Just a few hours ago we were up there, on top of the mountain!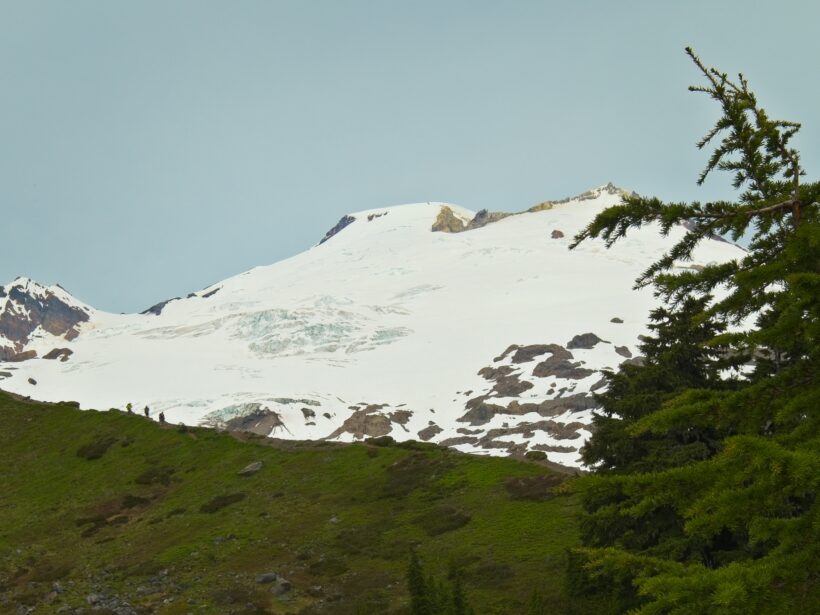 A few uncomfortable hours later, we arrive back at the trailhead. I drop my backpack with a sigh of relief and stretch out my aching muscles while we take turns using the vault toilet. (The drive out is long and full of potholes, not a great experience if you need to relieve yourself.) I don't know about Josh and Kim, but I am absolutely beat. I try to retain composure and be polite as a gentleman wearing walking shoes and a polo shirt asks me which way he and his friends should go to reach the top of the mountain, but it's tough to keep a straight face (I'm pretty sure he was just looking for the trail to see the mountain) as I point out the trail and mention that there's glacier he'll need to cross to reach the top…
Once we've all used the facilities and rested a bit, we stroll back to the car. The parking lot is full to the brim on this beautiful weekend afternoon; with seemingly everything closed due to the pandemic, I'm sure lots of people are spending more time in the mountains! Josh drives us home, somehow staying alert and awake. I, on the other hand, fall asleep in the back seat, tired but content to have finally reached the summit of Mount Baker.