For trip planning information, visit the post for day 1.
June 27, 2015 | 10.65 mi | +2083′ / -4182′ | View on Map
Another perfectly restful night… Sleeping in the outdoors has become as easy for me as sleeping in a bed. I woke up at about 6:00 and enjoyed the sunrise as it lit up the meadow below my campsite. I took a few photos and had raisin bran for breakfast. I only brought three oatmeal breakfasts, the other three are raisin bran with powdered milk. I figured I could eat them more quickly, but in reality, it takes just as long to make and eat raisin bran as it does oatmeal. A true quick breakfast would be something I could eat while I'm walking, like granola bars.
I pack up camp and leave at 7:15 or so. It takes me a few minutes to find the trail that leads from the Sunrise camp area to Sunrise Lake; there are lots of little social trails between campsites to confuse hikers. The walk to Sunrise Lake is pleasant and quiet; no other hikers are up and about yet. Soon after passing Sunrise Lake, however, I meet a whole bunch of hikers. Most of them are day-hikers traveling from Tenaya Lake to Cloud's Rest. I walk with a man from Orange County for a while; he delivers mail for a living and explores national parks on his vacations. He has some fun stories about the Grand Canyon and Zion.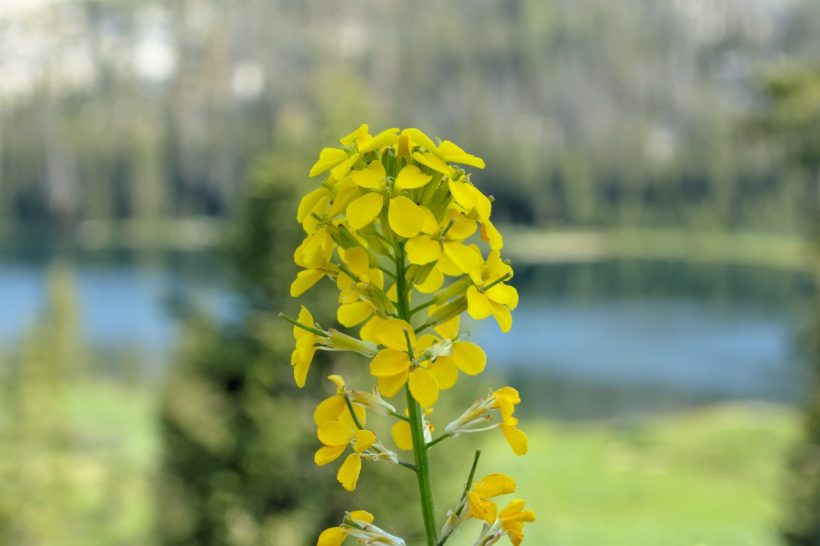 The hike up to Cloud's Rest wasn't too bad, but I think I'm just getting used to all the climbing. My campsite last night was somewhere near 7500 feet and Cloud's Rest is at about 10,000 feet. I've mastered the slow-and-steady climbing tempo, so I don't stop for very many breaks on the way up. The last few hundred yards get your heart going, but not from effort. As you approach the summit, the mountain narrows until you're walking on a narrow ridge that is maybe 30-40 feet wide. The sides of the ridge descend steeply for several thousand feet, and the wind is blowing pretty well.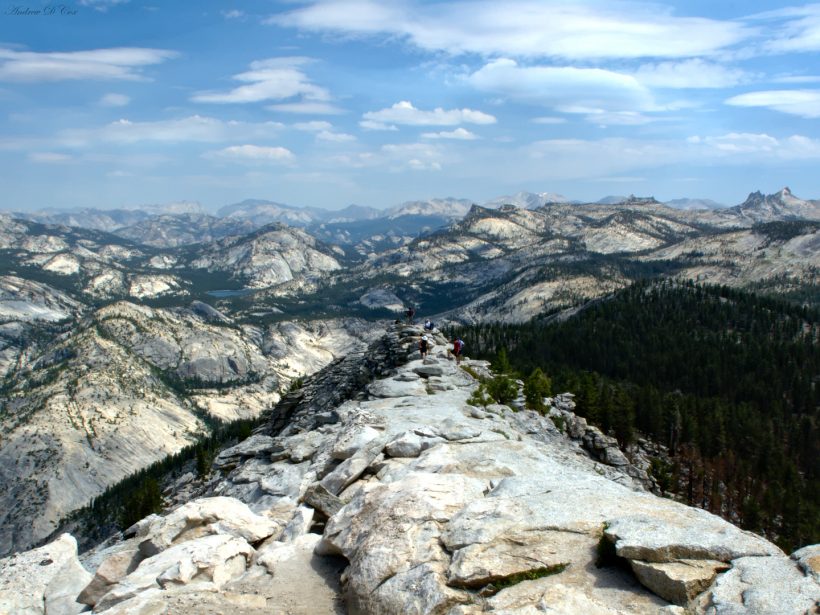 The summit is a little wider and I find 15 or 20 people already up there. One group tells me they began in Yosemite Valley this morning, which means they've ascended 6000 feet and hiked 9 miles! They're day hiking, so they're going all the way back down this afternoon. Yikes!
The view is incredible. I can see Red Peak Pass, the canyon above Merced Lake where I camped, Star King, Half Dome, and many other landmarks I've noted during my trip so far. I've intentionally held off on eating any snacks this morning so I can have an early lunch up here. I sit on a rock and eat some crackers, jerky, and a few cheese sticks. I'm constantly surprised that a bag of crackers can fill me up so easily. Granted, they are pretty dense crackers and probably contain a lot more fiber than two slices of bread do. I don't really want to leave, so I spend some time taking photos and write in my trail journal about my trip up here. It's kind of chilly with the wind, so I put on a jacket.
After an hour, I decide to head out. It's several more miles from Cloud's rest to the trail junction where I agreed to meet Lynnea, Stephen, and Cristina. The next 90 minutes turn out to be some of my least favorite hours of hiking this entire trip. The trail from Cloud's Rest down to the JMT is well-taken care of, smooth, and easy to walk on. But it never stops going down. It's like walking down a three-mile ramp. There are no level spots, no uphill to change things up, just constant downhill walking. It actually makes me angry, walking like this for so long.
I eventually reach the trail junction, to my great relief, and take a break for a little while. I scout around for campsites and find a pretty excellent one, complete with a fire pit, logs to sit on, and some big rocks just for cool-factor. I'm curious if there are any sites closer to the Half Dome trail, so I leave my pack at the Cloud's Rest junction and walk a half mile to the Half Dome trail. There are plenty of places to put a tent, but absolutely no water nearby. I don't want to walk half a mile to get water, so I decide the campsite I found earlier will be the best bet.
I hike back to the Cloud's Rest junction and move some of my things to the campsite I found to claim it. There are several other people camping nearby, so I say hello to them and then settle down to wait for my friends. While I'm waiting, I take some photos and even take a nap.
The three amigos arrive a few hours later; they followed the same route as I did and were just as impressed by the view from Cloud's Rest. They think the campsite I found is pretty cool, and we all move our things there and chat. Dinner happens sooner than later because we're all hungry after the hiking. To pass time, we play a few card games: Egyptian Rat Screw, B.S. and Speed.
A ranger comes by during the evening and informs us that we're camped in a campsite that is frequented by one of the local black bears. The rangers have a GPS tracker on the bear and she (the bear) is in the area, so we're likely going to see her tonight. The ranger gives us the standard briefing on bears: if we see this bear, we are to throw pine cones at her and yell loudly for her to go away. She'll probably make rounds through the campsites tonight after dark, and perhaps again in the early morning. Luckily for us, the ranger is going to camp close by so he'll be on the lookout for the bear too.
We head to bed at 9 or 10 (after stock-piling pine cones and stashing our bear canisters) and try to sleep. I'm not sure about the rest of the group, but I don't have much luck. At some point, I hear a voice yelling "HEY BEAR! GO AWAY BEAR!" and wake up, ready to throw pine cones. The pots and pans piled on top of our bear canisters remain silent, however, so I try to go back to sleep. Maybe the voice scared the bear away. I'm not incredibly successful, unfortunately, and drift in and out of sleep the rest of the night.