The "Lost Coast" is the most remote and undeveloped part of the California coastline. Located in northern California, about 150 miles south of the California-Oregon border, the Lost Coast Trail crosses 25 miles of this rugged wilderness, passing through grassy plateaus and over sandy beaches. It's not an easy hike – the soft sand and loose rocks can be tedious and high tide covers miles of the trail each day – but it's a unique hike, one of the few coastal wilderness backpacking experiences in the United States.
Trip Planning
Specs: 26.7 mi | +/- 1000 ft | 3 days, 2 nights
Difficulty: Class 1 [learn more]
Location: King Range National Conservation Area, California | Home of Mattole and Sinkyone peoples | View on Map
Route: We took a shuttle from Shelter Cove to Mattole Beach, the northern terminus of the Lost Coast Trail, and hiked south back to Shelter Cove. You can just as easily hike it in the opposite direction. There's very little route finding to do here, just follow the coast.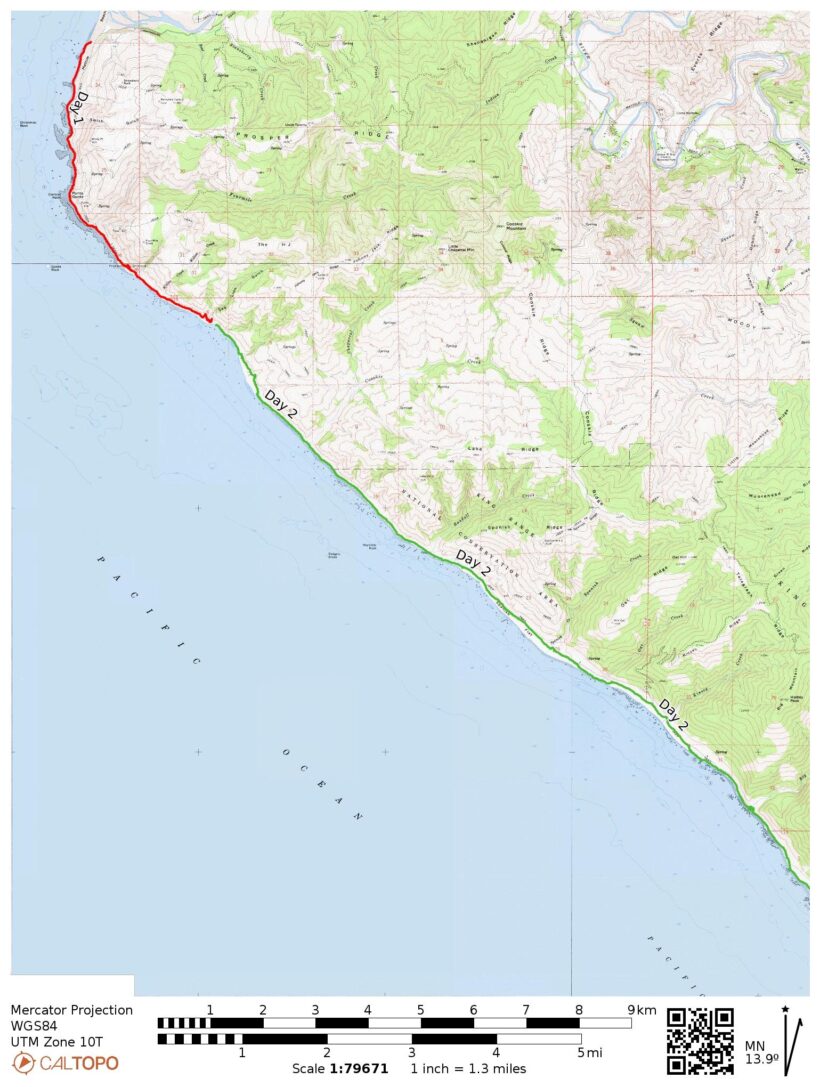 Permits & Regulations: Overnight camping along the Lost Coast Trail requires a backcountry permit. Permits are available through Recreation.gov on a first-come, first-served basis beginning on Oct 1 each year (e.g., 2024 permits are available Oct 1, 2023). They disappear quickly, so plan ahead! In addition to permits, bear cans are required on this trail. Pooping on the trail is a little different than usual; dig your hole in the intertidal zone (wet sand near the ocean) and let the ocean take it away at the next high tide. (Away from the coast, the usual rules apply: 200 feet from water, camp, and trails, 6-8 inch deep.) California campfire permits are required for both campfires and stove use, and camping is generally permitted everywhere except at the black sand beach near Shelter Cove and on the pockets of private property along the trail.
Resources: The BLM is the land manager for this area; their page for the Lost Coast Trail offers a succinct overview of the route. The permit website is a much more thorough source of information. The "Overview" and "Need to Know" tabs describe the permitting process and wilderness regulations in detail. The "Additional Information" tab also includes really valuable links to the Tide Safety Guide and Trip Planning Guide, among other resources. The BLM map (usually available at the Shelter Cove trailhead and at the general store there) is a fantastic resource as well.
Afternoon Stroll to Seal Rock
Friday, 23 June, 2023 | 4.9 mi | +/- 300 ft | View on Map
Alex, Kim, CK, and I arrive at Mattole Beach a little before 3 PM. The shuttle ride was a full 2 hours over winding mountain roads, some of which were unpaved – it really us remote out here. We eat some lunch scavenged from the Shelter Cove General Store – focaccia, hummus, avocado, and apples – at a concrete picnic table before beginning the hike. Overcast skies and a stiff breeze keep the temperature cool, almost chilly, perfect conditions for hiking.
A brief walk through soft, dry sand brings us to the beach where we're able to walk on slightly firmer sand wetted by recent waves. We spot all sorts of creatures washed up on the beach including sea urchins and an entire squid.
A little further down the trail we pass a couple of small cabins – private property – and cross Fourmile Creek via a conveniently placed log. The green hills are dotted with wildflowers, including quite a few yellow poppies. As beautiful as the scenery is, and as much as I appreciate the cool weather, it would be nice to have a little sunshine.
About 3 miles south of Mattole Beach we arrive at the abandoned but picturesque Punta Gorda lighthouse. I'm surprised to find it completely open – no locked doors, no gate preventing us from climbing the stairs to the top. We hang out atop the lighthouse for a little while, admiring the golden, grassy terrace and a pod of a few dozen elephant seals lounging on the beach below. They're mostly still, tossing sand over themselves with their flippers every few minutes. But occasionally two of the seals rise up and start barking at each other while they crash their heads and necks together; it's an amusing display.
Half a mile beyond the lighthouse we reach Willow Creek and an entire encampment of REI-branded tents. Alex, the organizer of our trip, heard that there was an REI guided group out this weekend, so this must be them. Just past their camp, we transition from beach hiking to "terrace hiking," i.e., trails along the grassy plateaus overlooking the water. Our shuttle driver warned us (many times) that these terrace areas are "full of ticks, rattlesnakes, and poison oak" so we're all on the lookout. We do pass through a few small patches of poison oak, but (spoiler alert) we never do find any ticks or rattlesnakes. Even with the threat of being bitten and/or poisoned, I enjoy the terrace hiking an awful lot! The firm ground is much easier to walk on than the soft sand and gravel down by the water, and the grass and wildflowers are beautiful.
We reach our campsite, a small plateau overlooking "Seal Rock," at about 18:00. Seal Rock is a massive poop-stained boulder just off the coast that is usually (and is tonight) covered in seals. We can hear them barking incessantly as we set up our tents and relax for the evening. This campsite sets us up nicely to enter the first major "impassable zone," an area that becomes impassable at high tide, first thing in the morning. The tide tables predict the four-mile zone will be passable between 06:30 and 14:30, so we'll have more than enough time to wander through before the water gets too high. I'm happy to discover that there aren't many mosquitoes or other bugs out as I sit and eat with CK, Kim, and Alex. We enjoy a leisurely dinner and head to bed when it gets dark.
Beach and Terrace
Saturday, 24 June, 2023 | 12.8 mi | +/- 500 ft | View on Map
The morning is pleasantly cool, but definitely not cold. It's sort of a strange feeling, to be honest; I usually hike and camp in the mountains where it's often slightly below freezing first thing in the morning. We hit the trail a little after 07:00 and begin the four-mile trek through the impassable zone. There are stretches of moderately loose rocks, but they're not so bad if you're used to hiking through talus of any kind. In any case, I appreciate the rocks for the variation they provide to the soft sand trudging.
A little more than a half mile from camp we reach a rocky outcropping that the map reports is "impassable at all tide levels," so we hike up onto another beautiful, grassy plateau and enjoy some gorgeous views and wildflowers from 130 feet above sea level. We soon return to the beach though. With the water at low tide, I'm excited to peer into the tide pools and look for critters! We find all sorts of things: muscles, crabs, starfish, sea anemones, and lots of snails.
We reach the end of the impassable zone around 09:00 and stop to sit and relax a little. It's overcast again today, though the clouds do seem a little thinner and the light a little brighter. A thin layer of mist hangs over the beach in places, giving the scenery a very moody feeling. We continue hiking down the beach, pausing to admire occasional sea creatures both alive and dead. One of the highlights of the afternoon is a small family of otters: a mother and two pups bathing in the shallow waves.
We stop for lunch around noon at Big Creek Canyon. For the first time since arriving at the lost coast, we get our first look at blue sky up the canyon! Since we're in no hurry we take a full hour to eat and relax on the beach.
Maybe it's the post-food blues or just the miles and miles of sand hiking, but I'm very tired after lunch. I trudge through the sand, keeping up with the others but not saying much. We pass flocks of seagulls and several groups of vultures but otherwise don't see much of note.
We reach Big Flat and its namesake creek around 2:30; this is where we're camping for the night! The sun has finally emerged and it's a bit hot, so I relax in a shady grove of trees for a little while. The highlight of the afternoon for me is a four-person game of Star Realms, a space-themed, deck-building card game. We play for at least an hour, maybe two; Kim is the first to be defeated, then me, and finally Alex destroys CK for the win.
The clouds return in the evening. We put up our tents and then build a small campfire and sit around it while we cook and eat dinner. This is my first time making a fire on the beach and I learn a few things – dried seaweed really doesn't burn well and it creates a ton of smoke. Dense driftwood has the same characteristics. By the time night falls we're all tired, so we pour a few bear cans' of water onto the coals and turn in.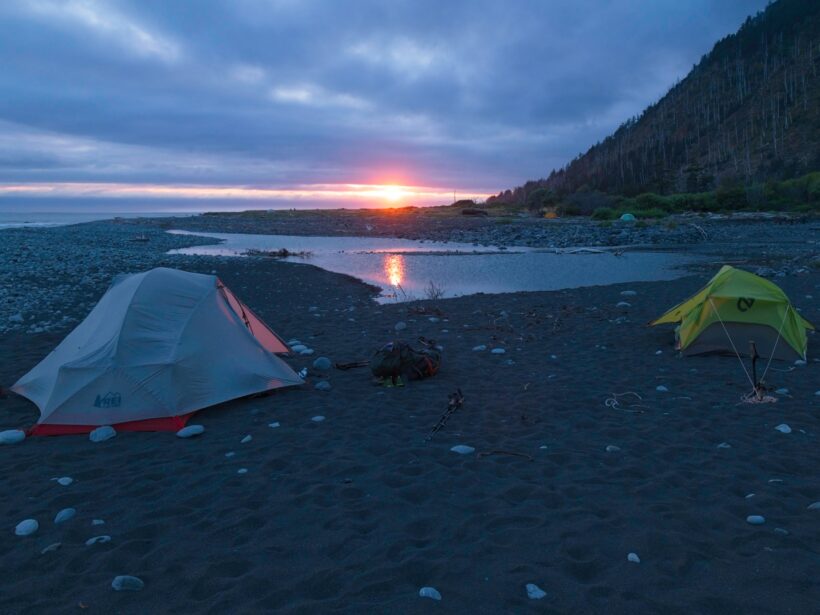 Impassable Black Sands
Sunday, 25 June, 2023 | 9.0 mi | +/- 200 ft | View on Map
As overcast and gloomy as the past two days have been, today is far gloomier. Strangely, I enjoy the excessive gloominess more than the medium gloom we've had the past two days. It's like the weather has fully committed to the Lost Coast ambiance. Like yesterday, we start out the morning hiking through a four-mile-long impassable zone. This one seems narrower and more rugged than yesterday's zone and I'm here for it! The dark rocks, the gloomy skies, the waves crashing just a few feet away combine to create a captivating several miles.
Besides a few rocky sections, the walking this morning is surprisingly easy. The wet sand is compact and firm so we stroll rather than trudge down the beach. We pass a few small, cascading waterfalls along the way that disappear into haze up on the sea cliffs. There are also plenty of starfish stranded out on the beach, a fish head, and some truly beautiful muscle shells. I enjoy seeing how close I can get to the waves without getting wet; the extents of the recent waves are etched into the sand, so it's pretty clear how high they can go but they're often much lower. Strolling confidently along as the water comes within inches of your shoes is surprisingly thrilling!
The gloomy vibes continue throughout the morning, for better or worse. The cool air and firm sand make it easy to settle into a rhythm and just walk. We're not necessarily "in a hurry" today, but we do have a 10-hour drive to complete so we're not dawdling either. We reach the end of the trail at 11:00, just four hours after leaving camp. After changing into comfy clothes we head over to the local brewery for post-hike treats.