I don't remember exactly when or why I fell in love with wilderness treks. As a kid, I was a Cub Scout and then a Boy Scout as I grew older, but I wasn't exactly enamored with hiking at the time. I went on a handful of adventurous trips with the troop during that time: a multi-day backpacking trip in the Great Smoky Mountains (Tennessee), some backcountry camping in the Red River Gorge (Kentucky), and a week-long canoeing trip in the Boundary Waters (Minnesota). They were all fun trips, but I don't remember every feeling the urge to plan a hike of my own; I wasn't even particularly interested in spending time hiking in nearby state parks.
However, that all changed in 2012 for reasons that I cannot remember. I had finished my sophomore year of college at Purdue and my family was going out to visit relatives in Idaho. At the time, my grandparents owned a small cabin near the Sawtooth Mountains in central Idaho. I've always loved spending time up there: visits to "the cabin" typically involved fun-filled summer days in the mountains and at alpine lakes and warm fires, hot dogs, and s'mores in the chilly evening hours. So, for whatever reason, I latched on to the idea of an overnight hiking trip in the Sawtooth Mountains. My goal was to reach Hidden Lake, which lies over the Sawtooth ridge line and requires traversing a pass at about 9600′. I'd never hiked that high before, nor into lands quite as wild as the Sawtooth Wilderness Area, and I was incredibly excited! I convinced Dad and Jason to join me on the adventure. Soon enough, we flew out to Idaho and, after spending some quality time with family, it was time to go camping.
Trip Planning
Specs: 14.0 mi | +3000′ / -3000′ | 2 days, 1 night
Difficulty: Class 1 [learn more]
Location: Sawtooth National Forest | Home of the Shoshone-Bannock peoples | View on Map
Route: Begin at the Tin Cup Trailhead at Pettit Lake. Only a short distance down the trail, leave the lake behind and head uphill on Trail 041. At the junction just west of Yellow Belly Lake, head west on Trail 096 toward Farley Lake. About a mile past Farley Lake, you'll reach another junction. Take the northbound trail toward Edith Lake.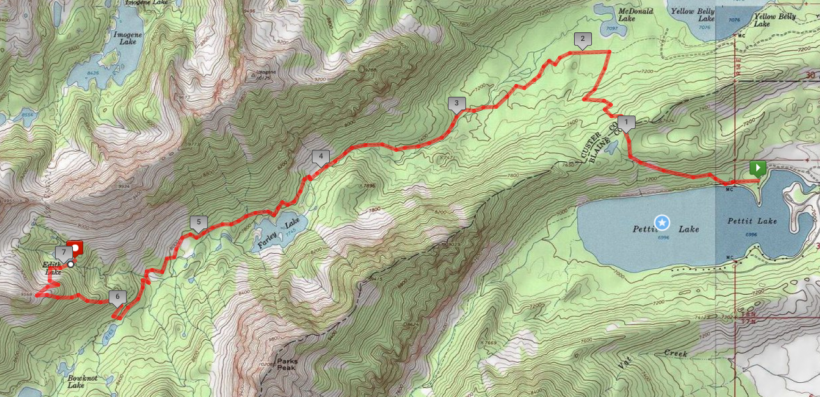 Permits and Regulations: Permits are required for all overnight trips and are self-issued at all trailheads (there is no quota system here) for groups smaller than 8 people. Certain areas of the wilderness are designated no-campfire zones and, as always, you are expected to leave no trace! For more information, visit the Sawtooth National Forest website.
Resources: I have yet to find a great printed map of the Sawtooth Wilderness Area. If you're willing to print your own, I highly recommend that interactive maps at CalTopo.com.
To the Sawtooth Mountains!
25 June 2012
We (myself, cousins, etc.) spent the afternoon floating down the concrete canal in the lava fields near Shoshone. The swift, cold water always feels great in the summer heat and the rush of floating through the rapids with nothing but a life preserver on is a little addicting. Grandpa shuttled us from one section of the canal to another in the back of his truck, which allowed us to float all afternoon and avoid walking back each time in wet swimsuits. Afterward, we devoured ice cream cones from the Snack Shack in Shoshone; the sizes at this place are not the same as other restaurants and the "large" cone is at least 12 inches of ice cream! Soon thereafter, Jason, Dad, and I headed North toward the mountains. We at dinner at a nice little Mexican restaurant in Ketchum before beginning the drive over Galena Pass.
As we crest Galena Pass (~8300 ft), the sun is setting over the Sawtooth peaks. We stop at the overlook and take in the sight and the fresh air. The air is just… something else. According to Wilderness.net, the Sawtooth Wilderness has the clearest air in the continental US!
We put the car in neutral and coast all the way down Galena to the valley below. By the time we reach the bottom, the fuel efficiency gauge reads 99.9 mpg. It's not terribly far to the family cabin and the drive passes quickly. We're unable to turn on the electricity when we arrive – there are a few breakers and switches, but nothing seems to work. Grandpa knows how to turn everything on, but he's not here and we have absolutely no cell service, so Dad and Jason drive 10-15 miles to the nearest town where there is a solitary cell tower and call Grandpa to get instructions. While they're gone, I start a fire in the stove and begin warming the cabin up; the temperature outside is dropping and the few electric heaters scattered around are far less useful than the fireplace in the center of the house. Great Grandpa built this cabin himself years ago. He enjoyed horseback riding and brought his horses up every summer and enjoyed the area. Since that time, the cabin has seen less use and everything is very much the same as it used to be, i.e., things aren't exactly new. That's all part of the charm, though!
Soon, Jason and Dad return and manage to get the electricity going – we have light! After some vacuuming (plenty of dead flies that couldn't find anything to eat…), we all head to bed so we can get an early start tomorrow.
Snow?!
26 June 2012 | 7 mi | +2612′ / -400′ | View on Map

We woke up this morning at about 6:00. The sun comes up, and so do you. The fire from last night has died out, so I restart it and make some pancakes for breakfast; Dad cooks up some scrambled eggs. After breakfast, we begin making food for our camping trip – sandwiches and such – and realize that we're missing several key ingredients. Jason and I drive into town and buy the missing items. En route we notice that the sky is littered with black clouds and the wind has really picked up, which is worrisome. We stop at the ranger station on the way home and ask about the forecast. The woman there tells us that although the weather looks bad there is no prediction of rain or other inclement weather.
We're reassured for the time being and return home to help Dad put together meals for our trip. After packing everything into our packs, we drive over to Pettit Lake and the Tin Cup trailhead. It's only 9 AM and the sun hasn't made it too far over the Eastern peaks, so it's still cold. We're not the most experienced bunch and didn't think to bring coats, so we've borrowed a few from the cabin that are probably at least 40 years old. They're still warm, though!
Pettit Lake is a popular summer vacation spot and lots of folks own cabins along the southern and eastern shores. There's also a small campground near the trailhead to serve the rest of us; we park the car there. After a few goofy pictures at the trailhead sign, we start off into the woods!
The first mile of our trek takes us up onto a ridge on the north side of the lake. From that vantage point, the cottages and cabins around the lake are clearly visible. Soon, the trail descends down the other side of the ridge and all signs of civilization disappear. The path here is soft dirt and winds between tall lodgepole pines. Pine beetles have devastated large swaths of trees in this part of the state but thankfully have not killed the trees here yet.
We encounter a crew of forest service employees a few miles down the trail. Dressed in olive green pants and shirts, they're busy clearing fallen trees from the trail and digging out runoff ditches that have silted in since last season. These rangers don't have the luxury of power tools and they have to carry all their gear, including food and shelter for the week's work on the trail, on their backs. I can't imagine carrying a pickaxe and saw in addition to all my other gear – that's a lot of weight! I recognize one of the rangers from years ago when we lived in Idaho – she lived just down the street from us and our families went skiing together once or twice! We chat for a few minutes and then say goodbye and continue on our way.
By the time we reach the wilderness boundary, the worrisome clouds from earlier this morning have disappeared and we've shed our extra layers. The sun has come out and, though the wind is still a factor, it's perfectly comfortable hiking weather. Also, although we've very nearly reached July, it's spring in the mountains. The creeks are roaring and the ground is covered with young ground cover and flowers.
Springtime in the mountains also means the snow hasn't finished melting yet. After eating lunch on the trail above Farley lake we begin to encounter the occasional drift across the trail. There's something fun about hiking through a little snow because it's such a contradiction to the typical experiences we have during this time of year. Yesterday we were floating down a canal to stay cool, surrounded by black lava fields radiating heat, and today we're crunching through the snow. It's great!
As we hike higher and higher, the frequency and depth of the snow fields increases and soon we're walking almost entirely on snow. While we have coats and warm sleeping bags, we're not prepared for much snow travel. We don't have microspikes or anything like them. However, we press on for the time being. Massive pine trees tower over us, and we wind our way between car-sized boulders. The trail begins to ascend, hugging boulders on the left and steep, snow-covered slopes on the right. The snow cover continues to increase and soon the only indication that we're on the right path is a row of partially exposed stones that mark the edge of the trail. We carefully step from rock to rock and try to avoid post-holing (sinking up to our hips) in the snow.
The map indicates that we should be encountering a set of switchbacks soon, but it's difficult to tell where they are because the landscape is blanketed with snow. We follow a route that looks like the trail but any confidence we might have had in our path-finding capabilities soon fades. Not to be perturbed, we continue to hike uphill; our next big landmark, Edith Lake, should be visible from the top of the ridge we're ascending. It's tough going: the slope is steep, but that means the snowpack is thinner and there are plenty of trees and rocks to grasp. By the time we reach the ridgetop, we're all huffing and puffing and, we discover, clearly off course. Edith Lake lies hundreds of feet below us; we're supposed to be on a trail next to the edge of the lake. At least we know which way to go now! We take a break for a while and admire the incredible views from our high vantage point. The landscape stretching out in front of us is breathtaking! There is snow everywhere around and behind/above us. Looking down the valley that we've hiked up today, the snow gradually gives way to a carpet of pine trees, then green meadows, another mountain range, white cotton ball clouds, and a sunny blue sky.
Deciding what to do next is a struggle. I desperately want to make it to Hidden Lake, but we have miles to go, a pass to cross, and the snow is only getting deeper. Dad suggests a ridge walk from our current location to the pass above Edith Lake. I'm not sure that is a great idea – we don't have snow gear and the snow on the ridge looks steep and could be unstable. Our best bet is probably to descend to Edith Lake and find the trail again. Descending to the lake isn't exactly trivial – the slope is quite steep and is covered with snow. Rather than post-holing it the half-mile from the top of the ridge to the lake, we simply slide down! We send the packs down like sleds and then glissade down behind them. By the time we reach the bottom of the slope, our shoes and socks are soaking wet. Dad and Jason are spent and vote to make camp here at Edith Lake and give up our plans to make it to Hidden Lake. I know they're right, but I spent so much time planning this trip and visualizing our trip up and over the pass… I'm angry for a while, but soon cheer up and try to enjoy the rest of the afternoon.
By the time we complete our camp set up, it's 4 PM and we're out of things to do. We cook tinfoil dinners over the campfire and then lie down for a bit. To save weight, we only brought one blue foam pad to share between the three of us and it's now cold and wet from our damp clothing. We try to spread it out beneath our hips to absorb the worst of the hard ground, but it doesn't do much to ease the discomfort. The sun doesn't set until 10 PM and I struggle to occupy my time. I wander around and take pictures with a Nikon Coolpix point-and-shoot camera, but soon lose interest. We should have brought playing cards or something. Between spurts of activity, thoughts of what could have been – camping on the shores of Hidden Lake – race through my head. I eventually fall into a restless sleep.
Retreat to the Trailhead
27 June 2012 | 6.5 mi | +400′ / -2200′ | View on Map

Well, last night was not much fun. I woke up about every 30 minutes, feeling uncomfortable and anxious for daylight. When the fun finally rose at 5:30, I get up and started a fire and am soon joined by Dad and Jason. We eat our breakfast while warming up around the little blaze and then clean up our camp and head out. It's chilly again this morning, so we don coats and hats for the first few miles. As we descend from Edith Lake, we soon discover where we lost the trail yesterday. We weren't so far off, and if we had made it just a little further, the snow retreats from the trail and we would have saved ourselves a climb. Of course, we also would have missed those incredible views.
From that point on, the views are familiar. We make good time and soon arrive back at the trailhead and the car. We return to the cabin, where Jason and Dad lie down for naps. I'm still frustrated that we didn't make it to our destination deep in the wilderness and take off on a little hike into the foothills behind the cabin to burn off some steam. After a few hours of walking, I feel better and return home. We'll just have to come back next year and make another bid to hike to Hidden Lake. I open my laptop and start a new document entitled "Hidden Lake Camping Trip Planning." It's going to be great!
In Retrospect
Despite years of hiking and camping experience with scout troops and on family outings, this backpacking trip was a huge learning experience. First of all, it just didn't occur to me that there might be several feet of snow in the mountains at the end of June. Had we been prepared with microspikes, snow pants, and other winter gear, we would have had a much better chance of reaching our destination. However, since we only brought denim, cotton, and tennis shoes, we didn't stand much of a chance against the snow.
Another lesson that I began to learn on this trip was the importance of quality gear. We all used old external frame packs, which are not terrible in and of themselves, but we knew very little about the proper way to balance the gear inside and carry it comfortably. The discomfort I experienced on this trip motivated me to learn more about backpacking and, although it took me several more years to modernize my gear, I began to upgrade items.
The final and most important lesson I learned, however, was the importance of making a reasonable judgment call to cut the hike short in spite of strong emotional biases to continue onward. There will always be another trip! Unless you do something stupid and seriously injure yourself or die – then there are no more trips. Make smart decisions! As it turns out, Dad and I did return to the Sawtooth Wilderness Area the following year.